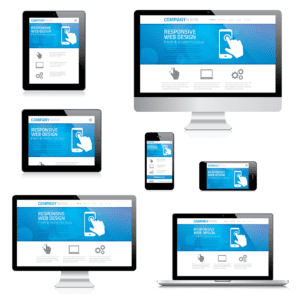 If your business doesn't maintain its own website, then you're losing out on the chance to introduce your product or service to an entire market of buyers that exist on the Internet. These days, most modern buyers begin their search for products and services online. From the information they learn, Internet users form impressions and opinions about the products and services being sold and the companies selling them. Without a website to show off the things you sell, you're practically giving business away. ClearDesigns.ie offers professional website design services in Dublin, Ireland and has the knowledge and experience necessary to help your business get online, stay online, and compete online.
There are many moving parts to a professionally designed website and they all have to work together in order to provide the Internet user with the best browsing experience possible. While you may not think about it, the design of your website can have a huge impact on the ability of your business to close deals and make sales online. Websites that are too busy, cluttered, or take too long to load can make people want to leave your website before they've even learned anything about what you have to offer.
ClearDesigns.ie professional website design services in Dublin was established in 2010 by Keith Wealleans who himself has almost two decades of digital design experience. We understand what clients want in a website, what Internet users expect in a website, and how to bring those two together to create an amazing piece of digital real estate for you and your business.
Whether revamping an existing website or starting from scratch, ClearDesigns.ie professional website design services in Dublin will evaluate the strength of your current online presence and help you come up with a design that captures your expertise and your business' character. Our responsive website design will allow your website to be viewed on just about any Internet enabled device including laptops, tablets, and smartphones. We also offer integration of back-office software with your website to help you effectively and efficiently manage accounts, orders, auditing software, and more.
With a website by ClearDesigns.ie website design services in Dublin, not only can your business have its own presence on the Internet, but your website can sell your product or service 24/7 – a true salesman that never sleeps. We can design a website for your business that maximizes potential conversion rates with things like space for a blog, links to social media accounts, lead capture and contact forms, professionally branded email addresses, and more. No matter the goal of your website – to sell products, find clients, or to raise an audience – ClearDesigns.ie professional website design services in Dublin can design a website that's just for you and unique to your business.
For more information on the website design services in Dublin offered by ClearDesigns.ie, get in touch with our expert website designers today and let us know what kind of website you're looking for.
Tel: 01 445 9363
info@cleardesigns.ie
22 The Courtyard,
Kilcarbery Business Park,
New Nangor Road,
Grange Castle
Dublin 22